Top Attorney – Patrick R. Little
Posted On
Auburn, CA/WW Press/October 16, 2017 – Patrick R. Little, Principle Attorney of the Law Offices of Patrick R. Little Foothill Dispute Resolution was selected for inclusion into the Top Attorneys of North America 2017-18 edition by the Who's Who Directories.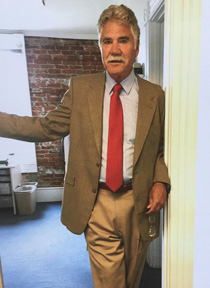 Attorney Patrick R. Little is Principal of the Law Offices of Patrick R. Little Foothill Dispute Resolution. He has over 25 years Mediation practice in the areas of Personal Injury, Products Liability, Professional Liability, Insurance, Property Damage, Construction Defects, Real Estate, Probate and Contracts, civil rights cases and 40 years civil trial practice (plaintiff and defense).
Mr. Little, have maintained a civil trial practice since the early 70's with the bulk of his cases in personal injury. He has always handled both plaintiff and defense cases with about a 25% – 75% ratio respectively. his defense cases come from multiple carriers over the years and at one time he employed 5 attorneys. He is presently out of litigation, finding mediation to be rewarding and now a very necessary part of case resolution due to the problems the courts are having handling their civil trial calendars. He will provide references from notable lawyers on both sides of the bar, upon request.
Attorney Little, received his B.S. from San Jose State and his J.D. from UOP, McGeorge School of Law. He is a faculty member Consumer Attorneys of California College of Trial Arts, Co-chair El Dorado County ADR Pilot Program, Member American Board of Trial Advocates, Judge Pro Tem; Placer, Sacramento and El Dorado Counties. He has been Voted Top Lawyer Sacramento Magazine 2015, 2016; Recipient Sacramento chapter American Board Of Trial Attorneys 2016 Jim Gilwee Civility Award; Av Preeminent by Martindale-Hubbell 2011, and 10 Year Coaches participation award Special Olympics of Northern California. He is also a presenter attending many conferences: Association – Lake Tahoe Continuing Education Conference 2014, Presenter 2015 CADC Annual Seminar "The Effective Mediation/ Getting to Yes" Speaker-"Better Results in Arbitration and Mediation"  23rd Annual Placer County Bar.
The Top Attorneys of North America, a New York based publication, distinguishes and profiles leading attorneys who demonstrate recognizable success and leadership in their field. The directory is valued for promoting an awareness of individual accomplishments and achievement within the North American legal community.